Oak Ridge Area, Roatan, 2014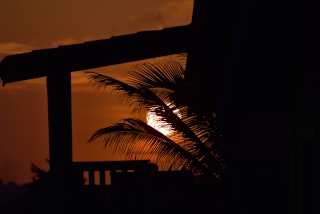 I went to Roatan for a week of diving with a friend of mine. Didn't spend any time seeing the island, because I was there to dive every day, but I did take some shots of the Oak Ridge area where the Reef House Resort is located.

Diving in Roatan. Moray eel gets a bit too close for comfort!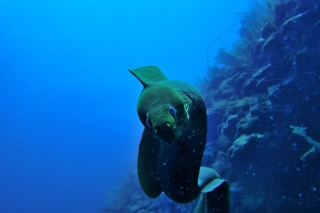 I went diving in Roatan with my buddy Steve Hope from Sep 27 to Oct 3, 2014. We returned to the Reef House Resort where we had been diving in 2008. Fabulous diving conditions - 85F water temps, and we were the only two guests in the resort, so we had the dive boat all to ourselves.

The 'close eel encounter' starts on page 19. Still shots of the spotted eel eating a lionfish start on page 29.
Diving Videos


Video of divemaster spearing a lionfish. (54mb)


Another video of divemaster spearing a lionfish. (35mb)


Feeding a lionfish to a spotted eel. (40mb)


Feeding a lionfish to a green moray eel. (16mb)


Green moray eel swimming away to eat a lionfish. (23mb)


Feeding a lionfish to a toadfish. (29mb)


Lots of fish! I watched this go on for several minutes before starting the video. (89mb)


Jawfish peeking out of their holes. (38mb)


Going through Calvin's Crack, part 1. (48mb)


Going through Calvin's Crack, part 2. (52mb)